Home

/

Access Unlimited - Fall Arrest Structures
FALL ARREST STRUCTURES
Ph: +61 (08) 9248 4088 | Fax: +61 (08) 9248 9422
You asked and we listened...

Mobile Fall Protection

for Heavy Machinery and Plant Equipment

Meets the requirements stipulated in AS/NZS 1891 as a suitable Mobile Anchorage Structure, and is compliant to Australian individual State and Territory WorkCover & WorkSafe Regulations together with Codes of Practice for the Prevention of Falls in Workplaces...
BTS RESTRICTED SPACE CUBE (RSC)
The BTS Restricted Space Cube (RSC) provides a person working at heights an overhead anchor point that is modular and can be moved easily around a site either via a forklift or hand pallet jack. The RSC is an ideal product solution for sites where an overhead structure or existing anchor point may not be suitable. Available with an adjustable height of 7.3m and a reach of 3m, the RSC is a suitable fall protection device for a wide range of applications including working on a large variety of earth moving plant machinery, highway and off highway trucks, shipping containers & portable buildings and other plant equipment that may require access and involve working at heights. The RSC can also be adapted as part of a truck loading and unloading process in warehouse and distribution facilities. The RSC is designed with a minimal footprint allowing it to be positioned close to the equipment being accessed, providing maximum fall protection for the worker. The RSC can be set-up for use by 1 person in less than 5 minutes.
PRODUCT FEATURES

Lightweight powder coated & galvanised steel finish complete with internal concrete & steel counterweights.

Over head anchorage point for personal fall arrest.

Double brake ergonomically designed hand winch for raising and lowering vertical mast.

Compact and counterweighted base that can be moved by forklift or hand pallet jack.

Counterweighted base has a footprint of 1.1m.

Height adjustment of mast from 4.5m to 7.2m.

Off set mast of 3m from central vertical mast.

Mast rotates 360° and can be locked every 22°

In-built visual overload and fall arrest indicators that identify if the RSC has been exposed to fall arrest forces or accidental misuse.

Available in Horizontal Rail confi gurations (as shown) to suit overhead rail application for up to two (2) workers.

Rated for (2) workers when two cubes are used in tandem and with an optional BTECH Rail & Trolley.

Optional accessories include: Tow Hitch Dolly, 5T Hand Pallet Jack, Inertia Reels, Inertia Reel with Self Rescue Capability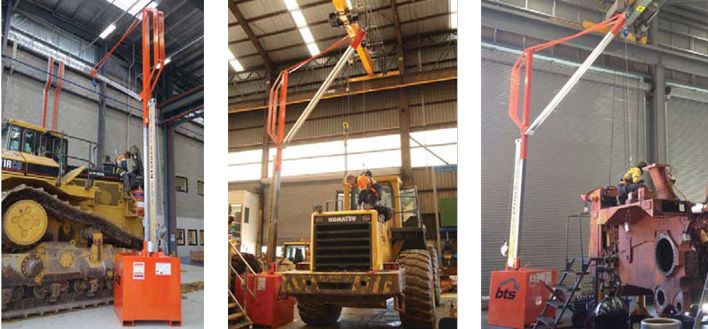 BTS LIFLINE FALL ARREST TRAILER (LFAT)
The BTS Lifl ine Fall Arrest Trailer (LFAT) is a complete over head fall protection system that is installed on a towable road registered trailer suited for Australian road conditions. The LFAT provides upto two (2) workers an overhead anchor point that is easy to set-up. Height adjustable to 6.7m, the main mast of the LFAT is raised or lowered using a hydraulic pump and valve arrangement.
PRODUCT FEATURES:

Maximum working overhead anchor point height of 6.7m and with a 2.1m off set mast rated for two (2) workers.

When not in use, the LFAT mast folds down eff ortlessly into the trailer and is securely held in place.

Completely counterweighted with predetermined weight plates for two (2) workers.

LFAT takes around 5 minutes to set-up for use and a similar amount of time to lower the unit after use.

The LFAT main mast is raised and lowered using a hydraulic pump and valve assembly with built-in hose burst protection reducing any manual handling issues on-site.

Put-away toolbox for safe storage of harnesses and fall arrestors.

Easy-to-use friction brake assembly on multidirectional front wheel.

Certified lifting points and forklift tyne pockets for ease of lifting and storing when shipping LFAT system around country side.

Grid mesh construction on trailer fl oor to act as an anti-slip surface and also eliminate any build-up of dirt.

Torsion axle assembly eliminating potential 'trailer hopping' when travelling at speeds on and off roads.

Also available in a heavy duty off road version for use in really rugged and harsh work environments.

Accessories; Inertia Reels, Inertia Reels with Self Rescue Capability, Inertia Reel with Assisted Rescue feature.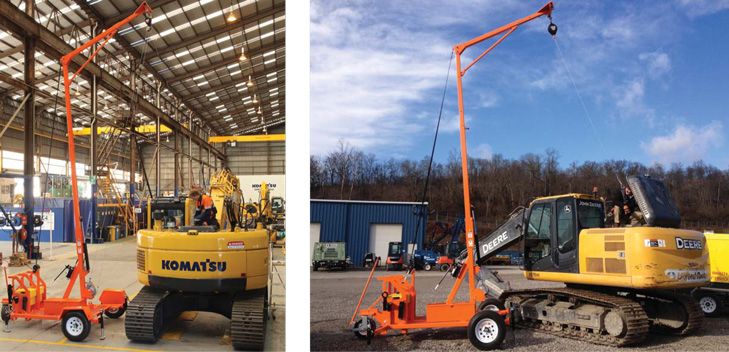 BTS RESTRICTED SPACE CUBE

(RSC) 7m

BTS RESTRICTED SPACE CUBE

(RSC) 11m

BTS LIFLINE FALL ARREST TRAILER (LFAT)